Reflecting on Learning
Throughout the class, students were asked to create walkthrough videos in which they discussed the projects and composing processes. For example, after completing drafts of e-poems, students created videos to show the viewer the thought process behind decisions that were made in composing the video. Yancey writes that "through reflection we learn what we know now, and we begin to understand what we need to learn next" (143). These walkthrough videos provided an opportunity for students to reflect on their projects, and then to translate those reflections into revisions. Scholar Kathleen Yancey also describes reflection as "putting multiple perspectives into play with each other in order to produce insight" (6), a process that played out in the course as students discovered new things about literature, themselves, and their abilities. As student Laura Brady puts it, "this class completely changed my perspective. I was able to feel as though I was learning a new type of literacy—one that centers around technology, one that fosters teamwork among classmates, and one that challenged what I knew about myself."
The portfolio videos collected here take up the e-poem projects, but also touch on larger aspects of the course. In particular, many students explore the experience of composing both traditional print essays on poetry and creating multimodal responses to poetry. Students also focus on aspects of creativity and on learning outcomes associated with the projects.
Student Nicole Bassil notes that there have been few opportunities for creativity in her educational experience. She notes the different strengths that individuals have in terms of creative expression. Bassil also links creativity to critical thinking and interpretation of texts, citing research to challenge trends toward standardization in education. Bassil notes that creativity is attainable for everyone. Bassil highlights a number of aspects of the class that offered pathways toward new modes of thinking. She also discusses the experience of flow that derived from working on video projects, noting that "throughout each of [her] video projects she experienced flow." Bassil concludes by detailing research on the values of creativity for flexible thinking and for problem solving, and she links these values to the class projects. 
Student Chelsea Cronin compares her essay and her e-poem, offering details on the poem, "Invictus." She discusses the revisions she made to her traditional essay and the ways that revisions helped create a stronger paper. She notes her lack of experience with video editing and the way the shift to multimedia composing created unfamiliar modes of analysis related to engaging with literature. Cronin suggests the image-oriented nature of poetry lead to interpretive opportunities through the use of multimedia materials. Cronin discusses her composing process and revisions. She notes engagement with both the essay and e-poem and highlights the way the e-poem added new interpretive possibilities. She points out that she was able to transfer the video skills to work on her Spanish 260 project.
Student Amy Elmers notes how working on class projects extended her understanding of what can count as literature. Elmers cites JoAnn Dugan and Jonathan Culler in discussing the ways that this expanded definition opens opportunities to explore creativity, aesthetics, and context. Elmers points out how these pathways apply to film and e-poetry projects, highlighting the ways "that poetry is enhanced and brought to life by visual representations." She notes how this dynamic plays out in her e-poem through the use of imagery that becomes metaphorical. Elmers also suggests that her poetry essay helped her recognize similar dynamics of imagery at play in traditional poetry. Elmers suggests not only that poetry is a core component of literature but also that the expanded definitions of what counts as literature that she has discovered "are valuable in teaching us to think critically, evaluate the world we live in, and decide what that means."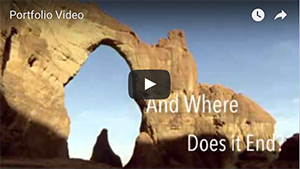 Student Kaitlyn Green highlights a variety of literary modes and the link between this variety and creativity. Green notes how composing her projects "require[d] the ability to interpret literature and to transform it into something new." This creative and production-oriented approach to engaging literature, Green suggests, applies both to e-poetry and to traditional essays. Green cites Mark A. Runko in noting the importance of flexibility in creative approaches. She also notes how this fluid approach can be frustrating. Green also notes that the e-poem project "was a little more freeing." She discusses the sense of reward that came from working on the projects: "As someone who loves creating visual art, making my e-poem was a very rewarding and even relaxing process." Green, again, notes that these outcomes can be derived from a range of projects that emphasize creativity in their production. 
Student Madison Forsey notes the typical associations of creativity with art, but suggests that creativity can be linked to a number of projects. She discusses the ways that questions of creativity arose as she worked on her projects. Forsey points toward novelty as a component of creativity but notes that "the main thing I've learned about originality is it can come from other people's ideas." She notes how this model plays out when composing e-poetry or essays. She discusses the potential for creativity in analytical essays, and then extends those possibilities for e-poems. Forsey discusses the way working with the poem helped her create her "own vision," resulting in a "product [that] is something completely new to the viewer, taking the old poem and pairing it with new sounds and visuals to curate something not only creative but also innovative." Forsey also links creativity to emotions and personal connections. Forsey suggests that typical academic projects suffer from decreased opportunities for creativity, while e-poems are linked with emotions and creativity. Forsey notes that the project allowed her to "get into her creative zone," an experience "when no one is pushing you, you aren't worried about a rubric or a deadline, your ideas flow freely, crafting something truly beautiful in the end." Forsey notes how the class has demonstrated a range of possibilities for creative work.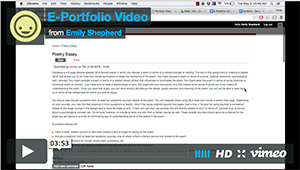 Student Emily Shepherd compares the experiences of working on poetry by composing a traditional essay and by creating an e-poem. She notes an initial lack of motivation with the traditional essay and an enthusiasm for the alternative possibilities of the e-poetry assignment that might help her work on video editing skills. However, Shepherd notes that she was suprised by the level of creative engagement that work on the traditional essay provided. She notes that the e-poem complemented the understanding of the poem she was studying by "allowing her to think more deeply about the symbolic meaning behind the literal words." Shepherd notes that "engaging students across modalities" can help students "learn the subject matter better." She also notes how the e-poem project "made [her] feel like [she] was more of a producer of texts and no longer a consumer." She notes that she made a number of artistic decisions while creating the e-poem. The work on these projects also helped Shepherd develop a deeper understanding of the relationships among texts that are key to engaging with literature. This understanding can translate into a sense of movement away from the individual and toward the collective.
Student Emily Danes discusses the learning she has experienced and highlights her engagement with video editing. Danes notes that she had no experience with video editing. She discusses her work on the traditional essay, noting the importance of freedom and personal choice in promoting engagement with projects. Danes notes initial intimidation with the technical components of the class and the ways that traditional essays offer a relief from these concerns. Danes discusses the ways that her knowledge of language and essay writing transferred to creating videos. She also suggests that creating a reflection video after completing the e-poem project was helpful for the way it made her "critically analyze [her] own work and think about why [she] used the materials [she] did." Danes notes that she was able to better recognize the elements of her projects and to make revisions as a result of creating reflections. She describes a number of changes she made to her e-poem as a result of producing reflections and notes that she developed a heightened sense of the importance of revision from the class.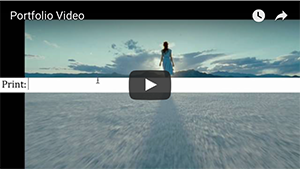 Student Lauren Farrington compares the experiences of working on the same poem using both print and video modes of response. She highlights the ways that traditional print essays are made up of primarily verbal materials. Farrington notes that she was less familiar with video essays. She discusses the discoveries that she made working with multimedia materials on the e-poem. She notes that essays are better suited for argumentative or analytical assignments. Farrington also suggests that the print essay gives the audience less freedom of interpretation. She then contrasts this with the openness of multimodal projects. She notes that her e-poem takes a different focus than her print essay, a focus that fits better with the e-poem medium. She notes the ways that the abstract images of the e-poem are likely to resonate with a range of emotions felt by audience members. Farrington also highlights the engagement she derived from the e-poem project: "my e-poem somehow felt more personal than my poetry essay to me and I think it's because I chose the specific materials that I wanted to connect with." Farrington concludes that both print and multimedia have benefits; essays offer better tools for analysis, and e-poems work better "to show the feeling[s]" evoked by the poem.
Student Laura Deem discusses different methods of analyzing literature. She notes the sense of creativity experienced during the projects. Deem compares composing a traditional essay with an e-poem, linking each to the study of literature. Deem notes how the open-ended nature of the essay assignment lent itself to creativity. She also highlights the assignment prompt, which asked students to discuss the poem in terms of another concern. Deem details the experience of composing the e-poem, again citing the open-ended nature of the assignment. Deem discusses the composition process for her e-poem, highlighting the movement from brainstorming to composing, and noting a number of challenges including watermarks in electronic materials. Deem also highlights the ways that her work with the class created opportunities for transfer and explores connections between disciplines.